About us
Convey Law is an innovative, award-winning and industry-leading conveyancing legal practice based in South Wales. Our philosophy is to be the very best at what we do and to exceed client expectations.
We are regulated by The Council for Licensed Conveyancers and sit on the Board of Directors of the Society of Licensed Conveyancers and are Members of the  Conveyancing Association.
We have won a plethora of national conveyancing service, IT and business awards.
Our revolutionary conveyancing practices have allowed us to lead digital innovation in our industry. Our paper-free environment and IT client portals have significantly decreased transaction timelines.
In 2020 Convey Law was the first and only legal practice in the UK to integrate with HM Passport office for digital ID checks.
Who We Are
We are an experienced and award-winning conveyancing legal practice established in 2004 by Managing Director, Lloyd Davies. As residential conveyancing specialists with over 20 years' experience, we have used our revolutionary procedures to help formulate best practice within the industry.
We are recognised for our innovative use of technology, having developed our own online portal to provide an easy, fast and efficient residential conveyancing service for all of our clients. In 2020, we became the first and only legal practice in the UK to integrate with HM Passport office for digital ID checks.
In 2014, our commitment to staff development led us to establish our in-house training courses. The online courses were so successful in training staff and supporting business growth, that we established a training company – The Conveyancing Academy – to provide these courses to the wider conveyancing industry.
Convey Law also has a charity arm, the Conveyancing Foundation. In 2010, we established our client Charity Lotto and have since raised over £800,000 for charity. This year, mental health and wellbeing is the focus of the Conveyancing Foundation's work with its Be Kind We Care initiative.
Industry Leading Conveyancing
At Convey Law, we endeavour to make property transactions as quick, easy and safe as possible for our clients.
To achieve this, we have developed our user-friendly client portal where you can digitally sign documents, verify your identity and track the progress of your case 24/7.
In 2020, we became the first legal practice in the UK to integrate with HM Passport office for digital ID checks and were proud to become a paper-free organisation in the same year. Back in 2017, we facilitated the first ever electronic e-signature exchange of contracts for a residential property transaction in the UK, a landmark moment for the property industry.
We continue to innovate with industry firsts to ensure the best possible service for our clients.
Awards
Convey Law has been recognised at all major conveyancing and property awards. We are regularly nominated across the board for our service, our staff, our groundbreaking IT and technology and for our emphasis on staff wellbeing. We have also picked up a string of honours for our world-class training academy.
We have received a host of accolades from leading property industry awards such as the ESTAS (Estate Agency of the Year Awards), widely recognised as the 'Oscars' of the property world, and also from renowned UK business awards like the British Chamber of Commerce Awards, Welsh Business Awards and Government-backed Apprenticeship Awards Cymru.
Recruitment
At Convey Law, we are as committed to your personal development and career as you are. We value the contribution of all our people and encourage them to excel.
We have an award-winning training academy for all new conveyancing trainees who will be guided on their journey to become a specialist Conveyancer by experienced trainers and mentors.
We have a proven track record of developing individuals who have risen to senior positions within the company. Senior Conveyancers can go on to become Supervisors and Directors.
Our Conveyancer Career Pathway
Through our Academy we have trained complete novices into competent conveyancing professionals within 6 to 12 months. Training is provided in-house by experienced Tutors in our state-of-the-art training facilities.
Apprentices will undertake the Academy's 'Conveyancing Training Pathway', which is accredited by the Council for Licensed Conveyancers (CLC). The first step on the pathway will be the beginners' Level 3 Practising Conveyancer Legal Diploma Course over the first 6-12 months which will teach them how to convey. They will then go on the CLC Level 4 and CLC Level 6 Apprenticeship courses which lead to full Licensed Conveyancer status.
Our Programme provides a professional and rewarding career pathway, which can be life changing, with enhanced and sustainable career prospects and salary increases at key training milestones.
Charity
Convey Law is the leading charity fundraising legal organisation in the UK. In 2010, we established our registered charity, the Conveyancing Foundation, to help others in the property industry raise awareness and funds for their chosen charities.
Over the past decade, we have helped raise over £800,000 through our hugely successful Charity Lotto, where clients choose to donate £10 for the chance to win £500 in a monthly draw. In 2021, we established the Be Kind We Care initiative to promote good mental health within the property industry.
Fundraising is at the heart of our culture at Convey Law and we hold regular charity and fundraising days. It is important to us that we support causes which mean the most to our team and we often ask for their charity nominations.
Lloyd Davies, Managing Director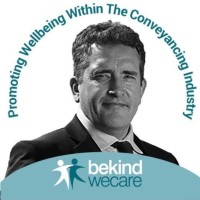 Lloyd qualified as a Solicitor in 1995, specialised in conveyancing and became a Licensed Conveyancer in 2009. Managing Director and founder of conveyancing specialists and CLC regulated top 30 legal practice Convey Law.
Former Operations Director for the Conveyancing Association and former Director and Deputy Chairman of the Society of Licensed Conveyancers.
Managing Director of Convey365 who provide revolutionary referral and IT systems to the conveyancing industry.
Managing Director of the Conveyancing Academy – the only specialist conveyancing apprenticeship provider in England and Wales.
Chairman of the Conveyancing Foundation which is pioneering in industry-driven wellbeing initiatives and charity fundraising.