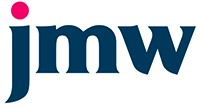 JMW Solicitors LLP
Based in Manchester's Spinningfields with a team in excess of 450 Partners and staff, JMW aims to offer an entirely new approach to the provision of legal services. We train our people on the importance of quality and efficiency to help them understand clients' needs and the best way to meet their expectations. We are proud of our northern roots and heritage, and consider it important to give back to our local community
Since 1978, we have been helping people and organisations in all kinds of legal matters, meaning we have a great and deep understanding of the law. All of our specialist departments are Partner-led with the aim of working for clients with clarity and determination.
We recognise that when you instruct a solicitor or lawyer you are making a very important decision, so it's important that you are assured that your choice of firm can not only do their job but can do it efficiently, keeping you informed and giving you the best advice available.
Our work has been recognised by the Legal 500 and The Chambers Guide to the Legal Profession as one of the best law firms in the North West across various practice areas.
JMW's team of real estate residential solicitors are here to ensure buying a new house is a hassle-free process and a big investment well made. We are hugely experienced in all aspects of conveyancing and will provide the expert guidance you need to help ensure that everything runs as smoothly as possible. With such a high-value transaction as the purchase or sale of a property, it's in your interest to appoint a solicitor as early as possible. Making our dedicated residential conveyancing department your first port of call will offer you the peace of mind that your house purchase or sale is in the right hands.
Our solicitors will always strive to meet your needs and deliver a customer-centric service of the highest quality. We will ensure that you always know at what stage in the conveyancing process we are up to, and are always on hand to answer your questions. Whether you are based locally to us or elsewhere, we can tailor a service to meet your needs.