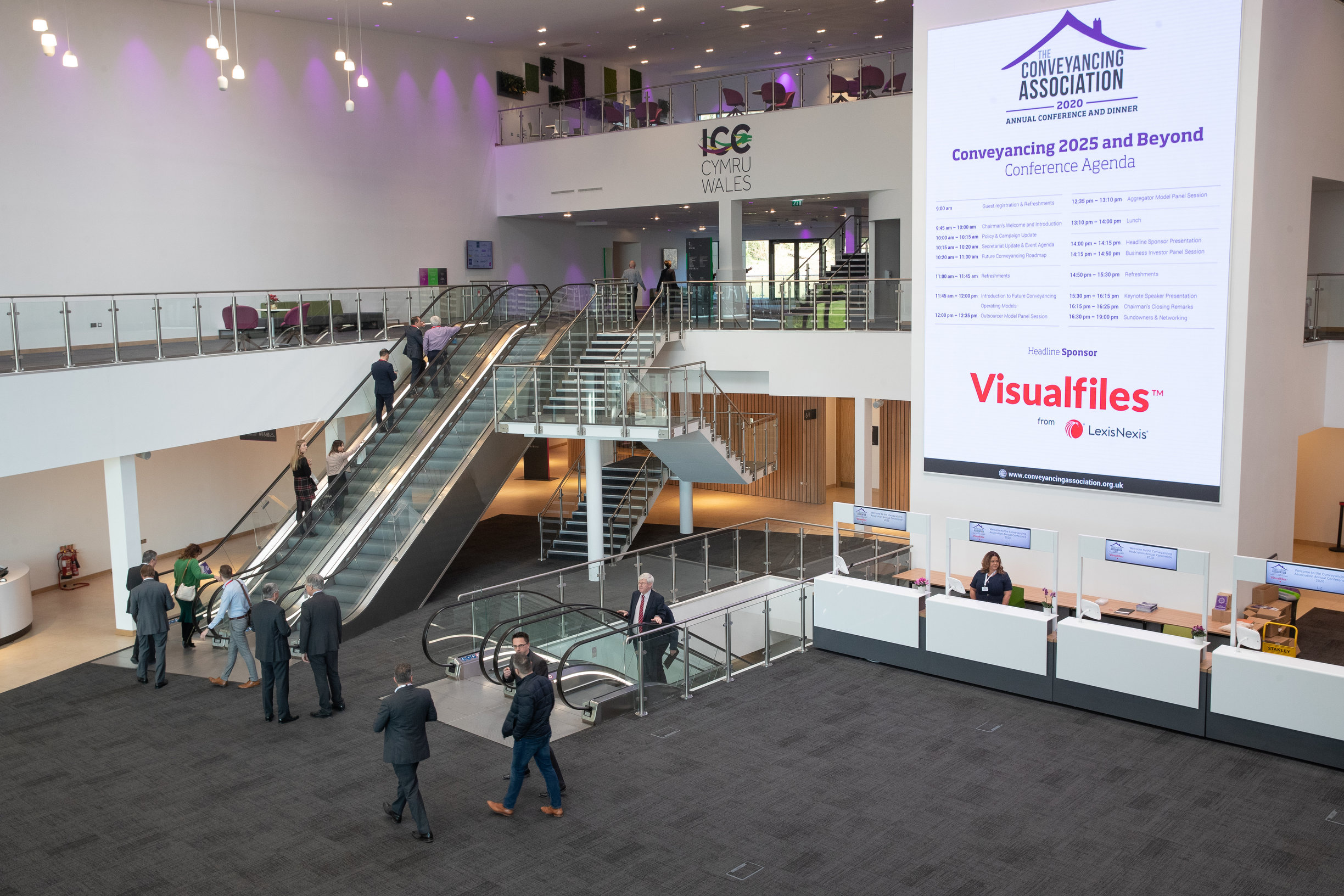 Conveyancing Association announce details of 2021 Annual Conference & Dinner
The Conveyancing Association (CA), the leading trade body for the conveyancing industry, has today (3rd November 2021) announced details of its 2021 Annual Conference & Dinner taking place at the ICC Wales & Celtic Manor Resort on the 2nd December 2021.
With a theme of 'The Conveyancing Revolution – Survival & Success in the Pandemic World', the Conference – headline sponsored by Visualfiles from LexisNexis – will focus on the future for conveyancing firms, what they can learn from the last 18 months, the roadmap for future success and the improvements that can be made to the process.
The agenda for the day includes:
'What next for the regulation of conveyancing services?' – Professor Stephen Mayson will look at the potential for the further deregulation of the legal profession and the possible entrance of unregulated providers.
Home Buying & Selling Group (HBSG) Update & Upfront Information – Chaired by the CA's Director of Delivery, Beth Rudolf, the session will include presentations from Beth, Kate Faulkner (Chair of the HBSG) and Matt Prior (Department for Levelling Up, Housing and Communities) on the provision and progress of upfront information, the work of the HBSG and the Government's position.
Digital Land Registry Presentation – Mike Harlow, Deputy Chief Executive & Deputy Chief Land Registrar will share details on HMLR's key projects being implemented to facilitate Digital Land Registration.
Digital Identity & Electronic Signatures – a panel of experts will look at ID, Safe Harbour and electronic signature of deeds.
Be Kind We Care – a panel session discussing tips and solutions on how firms can support their staff in dealing with difficult clients and ensure their ongoing wellbeing after the difficulties of the pandemic.
The Conference will also contain an exhibition space with the following exhibitors including many CA Affiliate members: Groundsure, Future Climate Info, InCase, LMS, Dual, Howden, InfoTrack, Legal Eye, Redbrick Solutions, Thirdfort, Global X, Terrafirma, Move Reports UK, SDLT Compass, Reallymoving, Society of Licensed Conveyancers, Yoti, LFS, PEXA, Landmark, Armalytix, and the Conveyancing Foundation/Academy.
Following the Conference, the CA will hold its Annual Dinner – this year with a 'Casino Royale' theme – at the Celtic Manor Resort, sponsored by Conveyancing Data Systems, followed by entertainment.
For further information on The Conveyancing Association's Conference & Dinner including how to book tickets, please visit: https://conference.conveyancingassociation.org.uk/
 Nicky Heathcote, Non-Executive Chair of The Conveyancing Association, said:
"We have just begun our physical events after a period when we were of course unable to get together and it has been so positive to meet people face-to-face again. We are very excited about our Annual Conference & Dinner because it gives the entire sector and a variety of stakeholders a chance to meet under one roof to look at what the future holds for the conveyancing sector in a post-pandemic world. We have put together a very strong Conference agenda and with the Annual Dinner taking place afterwards, it promises to be a very informative and enjoyable day for all who attend. The entire CA team is looking forward to welcoming all our delegates and guests to the ICC and Celtic Manor on the 2nd December."