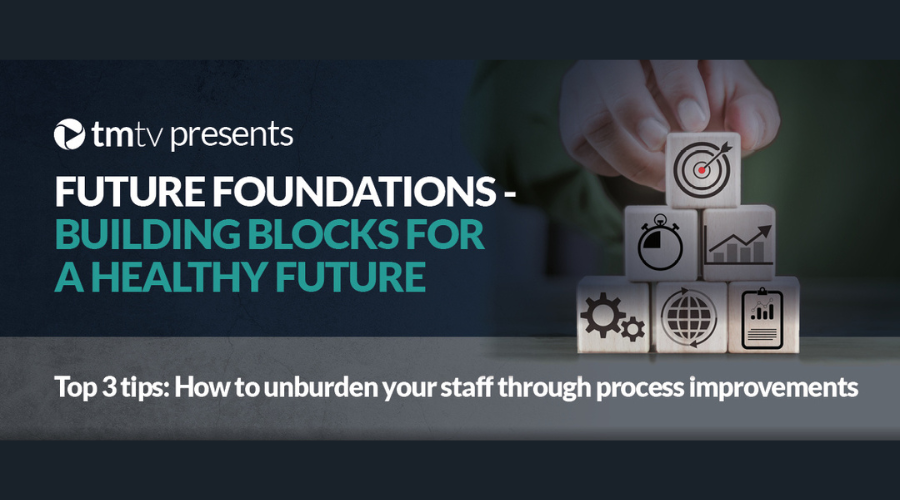 Experts reveal how to unburden your staff through process improvements
Change can be a daunting concept, especially when conveyancing firms are constantly striving to keep up with the fast pace of their work.  The need for change is clear, but determining the specific nature, magnitude, and implementation of that change, while also alleviating the burdens on staff through efficient processes, can feel like a huge challenge.
Yet change is something the industry has long-been calling for, as tmgroup's industry-wide 'Back to the Future' research report has discovered. It reveals that property professionals from all areas are crying out for a more simplified, efficient, transparent, and secure process to decrease the number of inquiries and expedite transactions. Many participants simply desired to be able to focus on their work, viewing process improvements as the key to unlocking that freedom.
Thankfully, tmgroup has brought together leading process change experts to share their invaluable insights on how legal firms can alleviate the workload of their staff through process enhancements, in their latest instalment of its tm:tv discussion series. Let's take a dive into some of their top tips:
Empower change, one step at a time
Acknowledge that change is ultimately centred around what is best for your business, your customers, and your teams. Extend the opportunity for change to all employees, as those who work on the front-line are likely to have insights into the obstacles that affect day-to-day operations and hinder the customer experience. This will provide a foundation for enhancing processes and achieving quick wins.
Johnny Field, Head of Customer and Partner Implementation at Pexa advised, "Transformation is very much a journey. It should never ever be about a destination. If you've opened up the ideas capability to your teams, you'll probably find yourself a long list quite quickly of worthy things to do. Look at the potential benefits, the cost and your available budget and resource, and make a decision around what's most valuable for you as a business."
Getting started with collating ideas for process change can be simple and free to do.  "I'd also suggest capturing a few key criteria that will help how you prioritize moving forwards. This can sometimes be done more formally via a scorecard if it works for you. Think about things like cost savings, time savings, improved colleague and customer experience, and what might the effort and cost look like to actually get those changes implemented," Johnny added.
"There are some really good solutions out there on the market like a house ideas portals, such as Miro and Trello, but it can just be as simple as an Excel spreadsheet. The key is really about having a way of keeping your record of all of these ideas, getting them out there and creating a record of them which you can refer back to."
The journey towards improving processes is also one of learning and reflection. Make sure to assess whether any changes in process implementation have yielded the desired benefits, and don't hesitate to question initial decisions if it becomes evident that they are not producing the expected outcomes.
Travis Scholes, Commercial Director at LMS added, "Get your staff involved in the process from day one. They can handle it. If you really want to help your staff and unburden them, first find a way to move quickly, remove all their governance where it's not required. Stay in control and make sure that it's managed properly but try and find a way to move quickly; that's when your staff will appreciate the effort you're putting in."
Use technology and automation wisely
Identify areas within your business that can be enhanced through the use of technology solutions. Build an accessible and functional stack of technology solutions that truly align with your business needs. You may also find that certain automations can streamline time-consuming and repetitive tasks, such as data workflows and documentation, resulting in improved operational efficiencies.
New AI technology presents an opportunity for businesses to add value quickly, by optimising time management or automating routine tasks, as Maria Harris, Chair of the Open Property Data Association (OPDA), explained, "I can guarantee your competitors are already using it."
Maria commented, "Every time we create a form, a document, upload a piece of evidence to a file, it is something that actually can be data driven.  I would love the industry to move to a modern data and API architecture. It would enable us to have consistency and data in real time with trust and provenance. It can unlock huge amounts of inefficiency."
Maria added, "If you can't adopt the open data standards yourself, start demanding it with your software and data providers and get them to work with the OPDA on making this happen. It will free up so much efficiency and improve the user and customer experience."
Focus on your customer journey and experience
Businesses can benefit from taking a more objective approach to identify the necessary process changes. Even if they already have strong processes and documentation in place, there may still be untapped opportunities for improvement by exploring external customer journey and experience perspectives, as Maria Harris remarked, "Until you walk through it from a customer experience perspective, you'd be surprised at how much efficiency you find in there."
Travis Scholes cautioned that while solutions may seem perfect at the time, they are only temporarily so, and suggested that businesses manage their expectations and remain agile as needs, expectations, and technology continue to evolve, adding, "Aim for good and be happy with good. That gives yourself a chance to reinvest when you need to, so technology and regulation does change, you find a way to be scalable and move fast."
Customers, staff and technology all play an important role in the journey of transformation through process improvements, as Thomas Maerz, CEO at tmgroup concludes, "Establish the change you are seeking to achieve and focus on what process improvements mean for people working in the business, by bringing them on the journey and empowering them to take an active role. Time and money invested now will dramatically improve the outlook for businesses and their people."
You can watch the full tm:tv episode 'Top 3 Tips: How to unburden your staff through process improvements' here. You can also register your free place at tm:tv's next online panel discussion webinar, 'Top 3 Tips: How to recruit, train and retain the best talent' on 7th November.