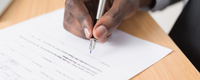 Trade and representative bodies, including The Conveyancing Association, launch new versions of LPE1, LPE2 and FME1 forms
The trade and representative bodies representing the legal, surveying, estate agency and property management sectors, including the Conveyancing Association (CA), have today (22nd November 2021) launched updated versions of the LPE1 (Leasehold Property Enquiries), LPE2 (Consumer summary) and FME1 (Freehold Management Enquiries) forms.  The forms will 'go live' on 11th January 2022.
Other bodies alongside the CA such as the Law Society, CILEX, Society of Licenced Conveyancers as well as ARMA, ARHM, BPF, IRPM, RTMF and ARLA are encouraging their member firms to use the new versions from 11th January 2022.
The updated forms now include the UPRN of the property with the updated form fields included within the pdfs. These versions of the forms ask administrators whether they can accept service of notice by email and receive the payments via the banking system to enable more efficiency in the process.
This is the third version of the LPE1 form with a number of new additional questions and amendments made. For example, it establishes whether there are any restrictions on keeping pets or parking.
The form also asks whether a fire safety or an external fire wall assessment has been undertaken, and whether there are urgent works required as a result. It is hoped this will allow those marketing the property to identify material facts around cladding more easily.  A portal to access external wall system reviews has been created by the Fire Institute Association; the Building Safety Portal.
The Freehold Management Enquiries (FME1) form is on its second version and contains a number of additional questions including who deals with the deed of covenant, on contributions to the service charge, and access to insurance.
The forms can be downloaded for free from the trade/representative bodies' websites and are also available via the law firm stationers from today so that any systems using the forms or pre-populating the forms can be updated by 11th January 2022.
Beth Rudolf, Director of Delivery at the Conveyancing Association, commented:
"The industry has committed to ensuring the forms are up to date and continually assessed to make sure they ask for all the necessary information. These new iterations of the forms do just that, and particularly in light of the ongoing issues many leaseholders are having with their building's fire safety, it is clearly very important that all stakeholders have full upfront and transparent information on this aspect of the property. We'll continue to review these forms to make sure they are fit for purpose going forward and in particular as their becomes greater clarity over the need for external wall assessments and access to them."
Nigel Glen, CEO of the Association of Residential Managing Agents (ARMA) added:
"We are pleased with the comprehensive additions to the forms, in particular the addition of the (usually belated and highly emotive) matter of pets and the LPE1's request for information on building safety. We hope the latter will help towards freeing up leaseholders to sell on properties where the fire risk is minimal. We also welcome the addition of the UPRN field as a means of encouraging its adoption across the residential building stock, the benefits of which have long been known."
FINAL FME1 – with fields 17.09.2021
FINAL LPE1 – with fields 17.09.2021
FINAL LPE2 – With Fields 20 09 21 3rd Edition