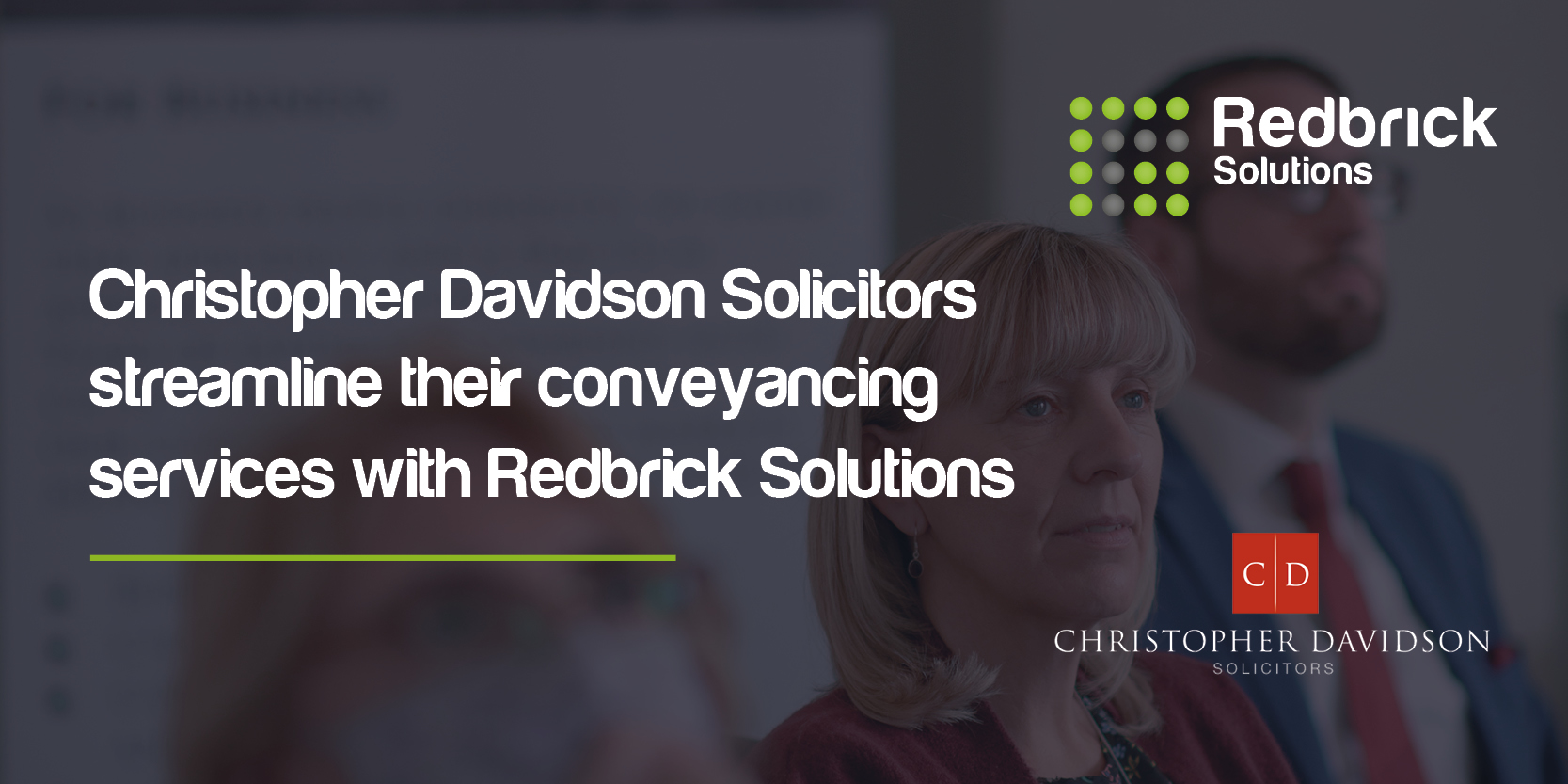 'Christopher Davidson Solicitors streamline their conveyancing services with Redbrick Solutions'
Providing exceptional legal advice and support is at the forefront of Christopher Davidson Solicitors comprehensive services, for both private and business clients. The well-established firm aim to understand their clients' problems, concerns and opportunities and provide them with a prompt solution. To support the firm in offering quality conveyancing services, Christopher Davidson Solicitors appointed Redbrick Solutions to assist them at every step of the legal process.
Christopher Davidson Solicitors wanted to source an adaptable conveyancing case management system to handle matters proactively and enable them to communicate with their clients efficiently and effectively. The award-winning Redbrick Legal Case Management Software provides seamless integration with Outlook preventing the firm from ever losing track of email correspondence. The two-way Outlook integration saves a significant amount of time compared to manually adding correspondence to a file, as all emails in and out are automatically copied to the correct matter.
Additional third-party integrations that vastly improve efficiency at the firm include, Land Registry, AML and Stamp Duty Land Tax. The integrations have delivered a quick and streamlined process, plus removed the risk of error in re-keying information.
Grant Adlard, Marketing, IT and Compliance Manager at Christopher Davidson Solicitors, comments,
"A good working relationship at the outset is vitally important when implementing a new product and Ryan Field, Implementation Manager at Redbrick Solutions, has provided our team with exceptional training and support. A system is only as good as the information inputted and this has been impeccable, no question is too small. Ryan is a credit to Redbrick as he has been key to achieving good engagement with our team."
Redbrick Solutions free support and maintenance has ensured that the system works perfectly for Christopher Davidson Solicitors. The firm also benefit from free upgrades and Redbrick Solutions unique per transaction business model, providing the opportunity to pass the fee on as a disbursement.
Christopher Davidson Solicitors take pride in their professional and approachable style and Redbrick Solutions has assisted the firm to deliver a high level of service to their clients.
For more information, please visit www.cdlaw.co.uk or www.redbricksolutions.co.uk.
For further information please contact:
Chloe Cragg, Marketing Manager, Redbrick Solutions – Tel: 01572 770088; ccragg@redbricksolutions.co.uk