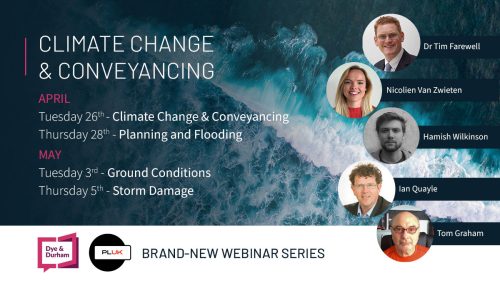 Dye & Durham's Insight and Data team to Examine Climate Change Exposure on Property in Free CPD Webinars
The award-winning Insight & Data team from Dye & Durham, is to host a series of four free webinars in association with Property Law UK, to examine the exposure to hazards resulting from climate change that could affect property purchase now and in the future.
The first webinar Climate Change and Conveyancing co-hosted by ground and climate expert Nicolien Van Zwieten, Dye & Durham and Ian Quayle CEO, IQ Legal Training will be held at 10am on Tuesday 26th April and will cover the increasing significance of climate change in conveyancing, and the use of environmental searches. Legal professionals will learn more about due diligence in the conveyancing process, the information currently available and how should it be reported and will be introduced to the new Dye & Durham Climate Report.
Geoscience Analyst, Nicolien will explain the key features and benefits of the new report; a first-of-its-kind tool which is available free to order for a limited time. The Climate Report identifies a property's exposure to hazards arising from climate change such as soil-related subsidence, extreme wind events, coastal erosion, plus river, coastal and surface water flooding up to 60 years in the future. The report covers how these hazards may change over time, potentially affecting insurance, enjoyment, and future value.
The upcoming webinars will cover the following topics: Climate Change, Planning and Flooding (28th April), Climate Change and Ground Conditions (3rd May), Climate Change and Storm Damage (5th May). Alongside Nicolien and Ian, presenters will include Hamish Wilkinson, Environmental Spatial Data Analyst at Dye & Durham, Dr Tim Farewell who is one of the UK's leading academics on ground hazards and Tom Graham a barrister, lecturer, and author with nearly 40 years of experience in town and country planning, highway law and public law.
Nicolien, Dye & Durham explains: "With the recent severe storms, we are already seeing the effects of climate change in our everyday lives. We also know the situation is set to deteriorate in the future, and this will inevitably affect property. For example, the number of households at substantial risk of flooding in the UK is set to rise by an incredible 24% over the next 30 years and we also know that 36,000 UK properties will be exposed to extreme winds by 2070."
Ian Quayle, Property Law UK comments: "It is imperative that conveyancers act now to recognise and communicate the risk of exposure to various hazards to property buyers, as this may impact on current and future valuation, marketability and of course the use and enjoyment of homes in the future. This series of informative webinars led by experts in this evolving field, will ensure conveyancers know how to access the most up to date data and information, and how to present it to demonstrate due diligence and enable clients to make informed decisions at the same time."
To see the full series and to book your place on the webinars click here.
Dye & Durham UK has brought together leading experts in fraud prevention, environmental, climate change and ground hazard reporting. This consolidation consists of Terrafirma, Lawyer Checker and Future Climate Info (FCI) into one central Insight & Data team. For latest updates and news, follow the new team on LinkedIn and Twitter.