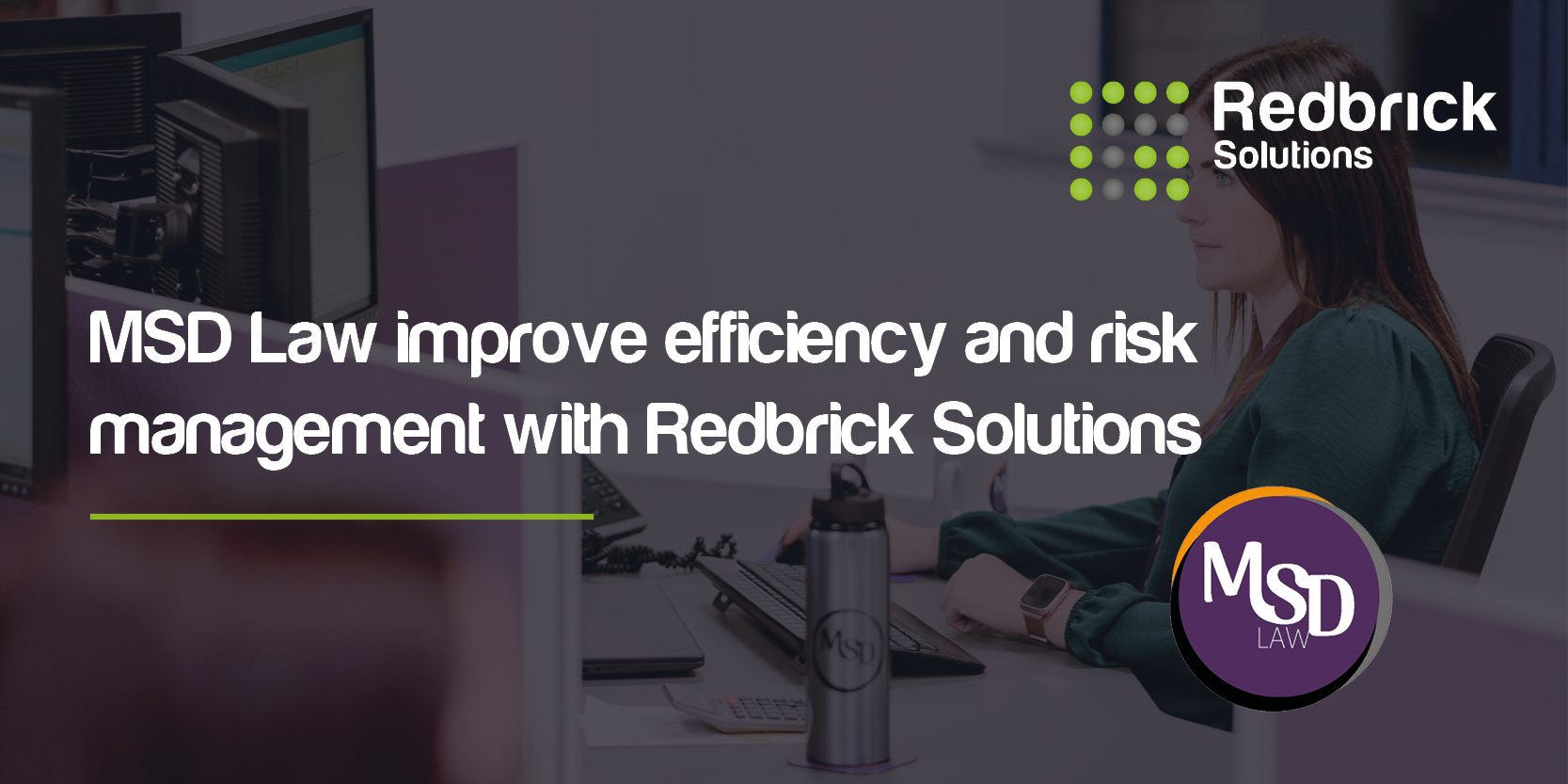 'MSD Law improve efficiency and risk management with Redbrick Solutions'
Specialist property and private client lawyers, MSD Law, recently rebranded and relocated to Telford, Shropshire. Since 1999 the forward-thinking law firm, previously known as Donn & Co, have helped thousands of people with an array of legal issues. To support the firm in offering quality conveyancing services, MSD Law appointed Redbrick Solutions conveyancing case management solution to assist users at every step of the legal process.
MSD Law wanted to source a user friendly and efficient case management system that improved the running of conveyancing cases. The award winning Redbrick Practice Management provides a platform to help manage risk with functionality to clearly see which tasks are outstanding on each case, which is of key importance to the practice. Marking off tasks and automating processes throughout the matter ensures a smoother transaction whilst delivering a high level of service to their clients.
The firm regularly use the Redbrick secure online portal, with two factor authentication, to securely upload documents pertaining to the matter for their clients to download. Their clients are also able to securely upload any documents that need returning to the firm. The online portal has helped the firm improve efficiency, especially during the pandemic when face to face appointments were not always possible.
Sharon Petford, Director at MSD Law, comments,
"When I first joined MSD Law, I took a personal interest in Redbrick to develop the tasks and documents in the workflows so that all files were dealt with in a consistent manner. Redbrick is very user friendly and enables us to manage risk as we can clearly see which tasks are outstanding on each case.
Redbrick were able to quickly adapt our ways of working to get us through the pandemic and the challenges which we faced.
Redbrick are very approachable and are always willing to help with training and support as and when needed. I would recommend them to anyone looking for a user friendly and efficient case management system."
Redbrick Solutions have assisted MSD Law in offering quality legal services, which has enabled the firm to focus on their business by adding talented individuals to their team and encouraging them to flourish. Anyone wishing to join the forward-thinking law firm can enquire about career opportunities to melissa@msdlaw.co.uk.
For more information, please visit www.msdlaw.co.uk or www.redbricksolutions.co.uk.
For further information please contact:
Chloe Cragg, Marketing Manager, Redbrick Solutions – Tel: 01572 770088; ccragg@redbricksolutions.co.uk